on Sun Mar 25, 2018 6:21 am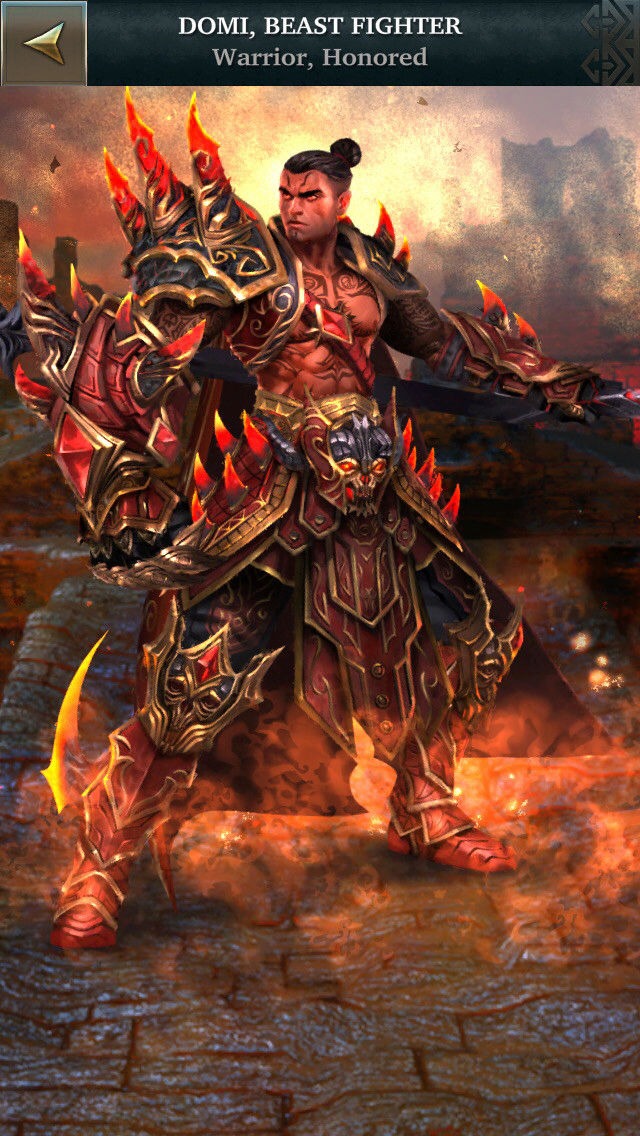 Intensity & Rapid Play Styles
Im going to start writing up some play style guides and thought i would start with one im using at the moment.
Many cards now have a battle power which increases with intensity every turn but what does this actually mean ?
Intensity is basically a power counter which increases every turn .. the current level can be seen in the top left corner of the battle screen in a small circle. There may be more than one if you have different cards with different intensities.
The value in this card direcly equates to how much of an effect your cards attack skill will have when activated. For example , if using Domi's skill on the second turn will see him spawn 2-3 red gems. Use it on the 20th turn and it will almost fill the board !!
As you can see , getting the intensity value high as soon as possible is a critical key in doing high damage. This is done in 2 ways.
A) artefacts and cards - many artefacts and cards increase intensity every turn so if you can get them all increasing the same value it ramps up much quicker. (I.e. the blood sword and 2x domi cards will increase the intensity 3x quicker thank just domi alone)
B) Rapid stop-the-clock play.
This style of play takes some pracice to get down fully but once you have it, your damage will go up massively.
The premice is simple. You want to increase intesity as quick as possible so each turn has to use as little of timer as possible.
Make a single match , preferably of the colour your using. Stop the clock by making a mismatch (a move that doesnt match 3).
If you do it correctly it will almost feel like one continual move and should take less than 1 second to perform.
This will increase your heros skill bar and also keep the maximum time on the clock.
Continue doing this until you can activate the power. You need to know instictively when the power can be activated as this also has to be done as fast as possible.
When your not actively moving hems (like when effects ate playing) you need to be studying the board for your next match.
The huge damage will only come in the latter part of the battle so keeping alive and increasing intensity is all you worry about for the first 10 seconds (dont try matching power gems or longer matches until your intensity is high)
Hope this helps you all het to the 1 billion damage club ..

on Sun Mar 25, 2018 7:24 am
Cheers Petey! Will try it

Sent from Topic'it App
on Sun Mar 25, 2018 10:42 am
If you get fast at using a 2 domi deck near the end of the 20 seconds when the board is almost full with red gems it is worth switching to using only 1 of the domis abilities so you still have a gem to mismatch and stop the clock.

Sent from Topic'it App
on Sun Mar 25, 2018 4:47 pm
This is my deck. Can this technique work with these cards?
Can anyone see the pic?!
Sent from Topic'it App
on Sun Mar 25, 2018 5:22 pm
Nope

Sent from Topic'it App
on Mon Mar 26, 2018 3:23 pm
Sorry .. can't see the pic either

Sent from Topic'it App
on Tue Mar 27, 2018 9:10 pm
on Sun Apr 01, 2018 10:22 am
As far as I'm aware they are used for powering up PvP and GvG edge artefacts but since I don't have any of these I can't tell for certain..

Sent from Topic'it App

Permissions in this forum:
You
cannot
reply to topics in this forum